Virginia Heroin Epidemic
The heroin epidemic that is striking many states in the eastern half of the US hasn't spared Virginia. At least 400 people a year have died from a prescription opioid overdose since 2008, and heroin deaths began climbing at an alarming rate in 2013, when the number of deaths climbed from 1.6 to 2.6 deaths per 100,000 in one year.
Massive amounts of Heroin coming into the US from countries like Afghanistan, Iran and Mexico are driving prices downward. At the same time, prescription opioids such as oxycodone, hydrocodone and fentanyl are causing many persons addicted to pills to cross the line to heroin.
There were 115 heroin and prescription opioid deaths just in Hampton Roads during the first six months of 2015, according to the state Medical Examiner's Office.
To help save the lives of overdose victims, a drug, Naloxone, which reverses the effects of opioid overdose has been made available without prescription to the public in pharmacies across the state. Naloxone, the brand name of which is Narcan, has saved the lives of many who have overdosed on heroin, pain pills or other opioid narcotics. While it can be a violent awakening, the effects of Naloxone on the nervous system are the opposite of opioids and it has meant the difference between life and death for many.
"I think the number is going to far exceed a thousand deaths for 2016," said Rosie Hobron, who tallies the deaths in Virginia as Office of the Chief Medical Examiner's forensic epidemiologist. "They are not plateauing or decreasing."
Virginia is on a path to a highest ever total of opioid deaths this year. The problems with heroin are intimately linked to the statewide increases in prescription pain killer abuse. While this isn't strictly a Virginia problem, or even just an Eastern US problem, (The Centers for Disease Control and Prevention reported 10,574 heroin overdose deaths across the country in 2014, an increase of 22 percent from 2013), it is still a situation that Virginia must deal with as a state and "look to our own for solutions". Prescriptions to powerful opioid pain relievers have been given too frequently for problems that in the past would only warrant recommendations to aspirin or ibuprofen.
The consequences of these practices have been recognized or some time and have resulted in a nation-wide crack-down in the form of a data base called the PDMP, the Prescription Drug Monitoring Program. This database effectively lists the physicians who might be over-prescribing as well as "patients" who travel from state to state looking for MDs
Another reason for concern is that heroin arriving on the streets is now being cut with a more dangerous drug, fentanyl. Fentanyl is a prescription pain killer that is 100 times more potent than morphine. When fentanyl is added to heroin, the result is a much more powerful and dangerous drug which is contributing to this epidemic rises in overdose rates throughout the country, but especially in the upper Midwest and eastward through Ohio, western Pennsylvania, West Virginia, Maryland and Virginia. And some of the fentanyl being thrown into the heroin that is hitting the streets in Virginia is of very low purity and low quality, having been manufactures in clandestine drug labs in China and other places in the Orient.
When heroin use begins, good judgement has already fled. So don't think that anyone can use this drug responsibly. When your family member or friend is found to be using heroin, the time to act is now. Don't wait to see if it "works itself out". The very next dose could be so much stronger than the usual that it causes overdose or death.
Don't hesitate, get him or her into treatment now and you may just save a life.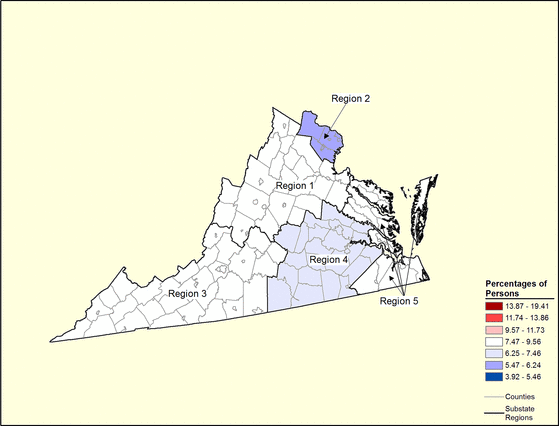 Illicit Drug Use in the Past Month among Persons Aged 12 or Older in Virginia, by Substate Region: Percentages, Annual Averages Based on 2010, 2011, and 2012 NSDUHs (Source: SAMHSA, Center for Behavioral Health Statistics and Quality, National Survey on Drug Use and Health)
Heroin-related deaths more than doubled in Virginia, from 2011 through 2013, for a total of 213.
Virginia State Government Agencies